Selous: Why it's one of the best off-the-beaten-track parks in Tanzania for a safari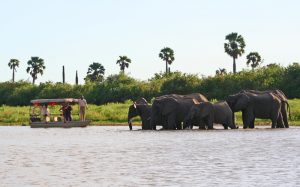 Image by Africa Geographic.
The Selous (pronounced "Se-loo") in southern Tanzania is Africa's largest single reserve. To put the size of this vast wildlife area in perspective, it is as big as the country of Switzerland. Habitats in the Selous include grassland, savannah, swamps, Acacia woodland and large tracts of miombo woodland. The Selous also hosts the renowned Rufiji River in its northern region. Because of this incredible biodiversity, and its relatively untouched nature, the Selous was designated a UNESCO world heritage site in 1982.
The reason many photographic safari goers have not heard of the Selous is that the majority of the reserve is designated for big game hunting. The land is leased out in parcels, or "concessions" to private companies that operate hunting safaris. However, there is a very large portion of the northern Selous that is strictly non-hunting and it is a wilderness gem. The "two worlds" of hunting and photographic safari do not overlap or mix in any way.
The Selous is home to some of the largest populations of elephants, lion, leopard, wild dog, crocodile, buffalo, cheetah, hyena, and giraffe in the world. The wildlife there are relaxed around game drive vehicles and, in some areas, also relaxed around travelers participating on walking safaris. This sometimes surprises safari-goers who feel that the wildlife is going to be more easily "spooked" given the hunting activity. The sheer vastness of the Selous and size of the area dedicated solely to photographic safaris provides this buffer. This article from a leading UK newspaper calls the Selous a safari above all others.
The Selous: a guaranteed way to get off the beaten track in Tanzania
For safari travelers who want to immerse themselves in wilderness and take advantage of the relative flexibility of a Game Reserve vs. a National Park, the Selous is an excellent choice. This flexibility can manifest itself by greater opportunity to drive off-road to track wildlife, expanded walking opportunities such as an overnight "fly camp" experience, and less strictly defined sunset curfews. The Rufiji River also offers a landscape for boating activities, something that is very rare in Tanzania's major National Parks.
What is the best time of year to visit the Selous?
One should plan on visiting the park during the dry season (late June through February) when vegetation is sparse, and wildlife becomes concentrated around water sources. The wildlife viewing around the Rufiji River is exceptional. In the wet season, the reserve can become impassable and wildlife spreads out across the vast game reserve, making viewing more challenging. The wet season can still be very exciting for certain specialist travelers, such as avid birders.