Gombe Stream: Why it's one of the best off-the-beaten-track parks in Tanzania for a safari
Gombe Stream National Park is the smallest national park in Tanzania and was made famous by the primatologist and conservationist, Jane Goodall. The chimpanzees here were some of the very first to be habituated and studied in Africa; research by the Jane Goodall Institute and other groups continues today as described by Dame Goodall in this video by CNN that includes excellent scenery of the park.
The park is located on the eastern shores of Lake Tanganyika in far western Tanzania. This park is very remote and is accessed after arriving in Kigoma, typically by air. The park can be reached by vehicle transport or by boat.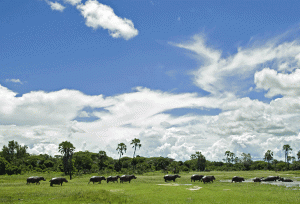 Lake Tanganyika, Image by Africa Geographic.
There is one small, private lodge in Gombe and safari-goers can overnight there and spend a few days hiking in the nearby mountains with a guide, looking for the habituated chimp families and for incredible birdlife. The lakeside lodge also allows for plenty of water activities, such as kayaking, snorkeling, fishing, or taking a dhow for a sunset cruise. The equatorial climate makes this much more like a traditional beach vacation on the shoreline, while offering the once-in-a-lifetime experience of chimp trekking just a short distance into the forest.
Gombe Stream: an off-the-beaten-track pilgrimage site for admirers of Jane Goodall's research and conservation work
Gombe is very remote, so travelers must have a high degree of commitment to bear the time and expense required to reach it. However, its remote location on the shores of Lake Tanganyika and its world renown as a hub for chimpanzee research and conservation make for an inspirational trip. Staying in a private lodge allows for a more relaxed approach to visiting versus obtaining the 24-hours-only pass made available by the public wildlife authorities.
The experience at Gombe Stream is similar to what one would encounter at Mahale Mountains National Park, although the latter is even more remote and the sole camp in Mahale is more luxurious.
When is the best time of the year to go to Gombe Stream?
The wet season in Gombe Stream doesn't really separate into the "short rains" and "long rains" like in other parts of Tanzania. Therefore, the area is best from June through October. In November until May, the wetter climate can make the hiking in the forest very difficult and the chimpanzees will spend most of their time in the canopy rather than on the ground.