5 of the Best Walking Safari Regions in Africa
There are a large number of options in the safari world to stretch your legs. Walking gets you on the ground with wildlife and one goes from being a spectator in a vehicle to a participant on foot.
Most well-known camps and lodges offer walking safaris. These are excellent in their own right and provide a fulfilling experience, often focusing on smaller areas of interest like animal tracks, flowers, insects, and trees. A safari built around the walking experience focuses on observing large game while on foot as well.
For this blog, we want to introduce some of the best areas for an immersive walking safari experience. There are a number of different attributes that we think of when choosing a walking safari destination, namely the wildlife, terrain, accommodation, guiding, and safety. The best camps and walking areas excel at all of these aspects of a safari on foot.
This park is where walking safaris as we know them today were first born. The National Park offers excellent walking terrain, especially during the dry season along the banks of the Luangwa River. Elephant, hippo, buffalo and a wide variety of antelope species can be seen in a single morning, and the camp is situated in such a way that our guests can return for lunch and a siesta in the middle part of the day before heading out again in the afternoon. Some guests are privileged enough to encounter lion or even leopard on foot. The terrain of this park in Zambia allows for sightings of these predators in complete safety, together with your expert guide.
In this area, Completely Unique Safaris loves to work with Robin Pope Safaris, a leading operator in this area that has been running walking safaris for more than fifty years. They prove time and again that this reserve in Zambia, with its expert guides and comfortable accommodations, is one of the very best.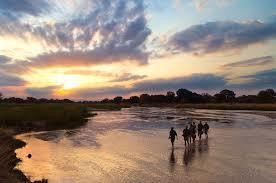 Mana Pools National Park has been a favorite destination of Completely Unique Safaris for many years. This area is not as familiar to American safari-goers, so building a dream walking safari with us that takes you to the shores of the mighty Zambezi River is a once-in-a-lifetime opportunity.
The entire park has vast walking opportunities, from footpaths along the river to long strolls in the interior of the park, marked by giant and picturesque Anna trees. Photographers delight in these wooded sections, as the dust kicked up by wildlife catches the light and lends the area an overall glow. What makes the walking in Mana Pools especially wonderful is the relaxed nature of the wildlife. Certain elephants in the area are well-known to the local guides and remain very comfortable even as guests near them on foot. The predator sightings on foot can be exceptional too: encountering a pack of wild dogs or pride of lions is a other-worldly, but entirely safe and carefully guided, experience.
Completely Unique Safaris often designs Mana Pools walking safaris with African Bush Camps. Even though this company is relatively young in the safari industry, they are a well-run organization with excellent guides and wonderful camp locations.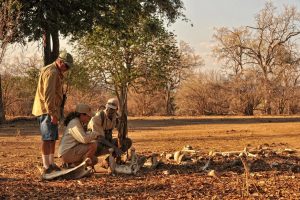 The Greater Kruger is one of the last strongholds of Africa's rhinoceros and an area where walking safaris have been led by expert guides for many decades. Tracking and viewing large pachyderms such as rhino and elephant on foot is a fabulous experience. With an expert guide, one can get excellent and safety-ensured views of these magnificent animals. Elephant, buffalo and many other small mammal species are typically encountered on Kruger Park guided walks as well.
Completely Unique Safaris often works with a select partner in the Timbavati Game Reserve, Tanda Tula Bush Camp. The tented camp is small and secluded gem that has access to seldom-traversed areas. A safari in the Timbavati can also be extended to a traditional vehicle-centric safari in an open-air Land Rover at Tanda Tula's main camp, the best way to encounter the area's many elusive leopards.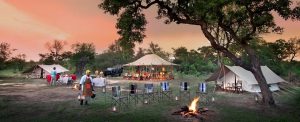 Another fantastic walking area in the Greater Kruger is the Makuleke concession in Kruger's northern Pafuri area. This is a truly wild area with some of the most diverse terrain in the whole of the Kruger National Park. This area is where guests can look to find the extremely rare Pel's fishing owl, and walk with elephants in the enchanting fever tree forests. Or find spectacular views on top of massive gorges.

In one of the world's largest deserts, you will find a watery paradise of floodplains and channels, pools and ponds, sedges and reeds. The Okavango Delta is a well-known wildlife destination; in fact, many will tell you that the Okavango is the greatest safari destination in Africa. The vast majority of safari-goers do not get to explore this mythical destination on foot, however.
The combination of wetland and desert makes the Okavango Delta truly unique for combining walking and spending time on the water in a canoe. In this pristine wilderness, Completely Unique Safari guests walk the flat, open, dry terrain that hosts abundant wildlife. Elephant numbers swell in the dry season when water floods into the delta, having fallen during the wet season in the far-away Angolan Highlands. Hippos wallow in the shallow pools and antelope wade into the protected wetlands hoping to avoid the numerous predators. Great Plains offers the exclusive Selinda Adventure Trail experience and Completely Unique Safaris can organize this option for you from start to finish.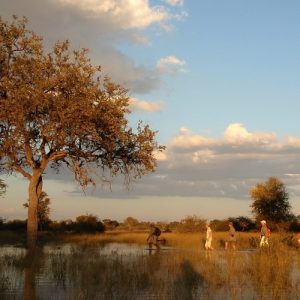 Situated in the worlds second largest rainforest, The Congo Basin, Odzala provides guests with the opportunity to not only have the incredible experience of tracking and viewing the western lowland gorilla but to also be able to spend a week immersing yourself and taking in the entire rainforest and the abundant primate, bird and animal life that it holds. Activities are mainly water based, boating, kayaking, swimming and on foot. This area is home to the forest elephant, flocks of over 300 African grey parrots, chimpanzee, western lowland gorilla and more. Completely Unique Safaris knows that Odzala Discovery Camps does it best. We work closely together to provide guests with an explorers experience of a lifetime.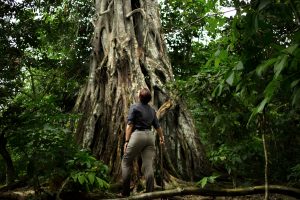 If you are looking for an active safari, we will happily design an experience with you that meets your every expectation for an enthralling trip, while ensuring safety and security, especially in areas that host large game. A few days at a walking-centric camp can also be joined with a traditional Southern or Eastern African safari where walking is an option, but in smaller doses. For more information, contact us at info@CUSafaris.com and let us know you that you have your walking shoes ready!