Zambia: our favourite off-the-beaten-track, immersive safari destination
One of the things that we strive for when designing a safari is providing our guests with the chance to experience the African bush with "room to breathe". This can mean spending time in wide open spaces where the hump of an elephant's back can be seen from many kilometres away. For many, it means being able to have relaxed, uninterrupted encounters with the surrounding wilderness and its wildlife. There are "A-List" places for a safari that everybody has heard of, such as the Masai Mara in Kenya. Unfortunately, due to its proximity to Nairobi, the well-established road network between the capital and the Masai Mara, and lack of regulation in terms of vehicles able to enter the area for day visits, it is virtually impossible to guarantee that a given sighting won't be crowded with eleven other vehicles jostling for position.
In Tanzania, just on the other side of the Mara River, the immense Serengeti National Park can provide what we feel is a better alternative for viewing the Great Wildebeest Migration in the months when the herds are in the northern Serengeti, crossing back and forth between Tanzania and Kenya. Still, the popularity of the Great Migration draws crowds and, in the high season, it's rare to have a wildlife sighting all to oneself. Truly, popular places are popular for good reason: the wildebeest migration that occurs annually along the Serengeti-Mara ecosystem is a unique spectacle and wondrous thing to behold. The density of wildlife, including hosts of big cat predators, large herds of zebra and antelope, and abundant smaller wildlife and birdlife, make the Great Migration a "bucket list" destination for many.
However, there are also places that are not very popular, and for not very good reason whatsoever! Zambia is one of our favourite safari destinations for guests hoping to see eye-popping wildlife and spectacular scenery, but who also put avoiding other safari-goers at a premium. Zambia's national parks – South Luangwa, Kafue, and Lower Zambezi – offer up truly stunning wildlife encounters, but it's possible to tuck oneself away in a corner of one of these vast national parks and not see other guests for days!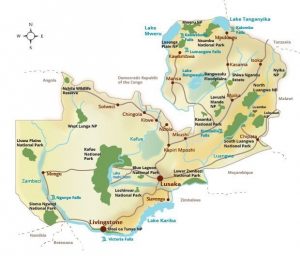 From a map of Zambia's park system, one can get a great feel for the combination of wide-open spaces and flourishing waterscapes
On top of the scarcity of visitors relative to popular safari destinations, Zambia also offers more flexibility in terms of being able to take guided walks in the reserve, stay out past sunset or go on night-time drives, and tour the park in an open-air vehicle. All of these activities are far more restrictive or forbidden in parts of Africa where the volume of tourists have required the park authorities to manage these activities more closely in order to reduce pressure on the wildlife and the ecosystem as a whole. Apart from specialised, private concessions, things like open-air vehicles, night drives, and guided walks are largely forbidden in "classic" national parks such as the Serengeti in Tanzania and the Kruger National Park in South Africa. (Hint: Completely Unique Safaris focuses on these private concessions and specialised properties when designing safaris in both of these parks.)
If you are looking to discover big cats, elephant, Cape buffalo, wild dogs, and other magical wildlife, while minimising the potential for other vehicles and visitors to impact your own personal experience, inquire with us about building a custom safari in Zambia.
South Luangwa National Park in Zambia supports a thriving leopard population