South Africa's garden route: Where to go on the Garden Route and what to do
The Garden Route is one of the world's most spectacular drives, a 200km stretch of road that winds past forested mountains, sprawling wetlands and white-sand beaches with picturesque towns spaced no more than a 45-minute drive apart.
Knysna: charming holiday town at the heart of the Garden Route
The town lazes on the shore of a shallow lagoon: grand houses tumble down the hill toward the water's edge, boats bob at wooden jetties, and the town's famous Waterfront buzzes with restaurants, coffee shops, boutiques, and bars. There's plenty to do in and around town: take the ferry to the Featherbed Nature Reserve and stroll along its cliff-top paths, go on a boat cruise to 'The Heads' (a pair of rocky headlands through which the tide ebbs and flows) or walk one of the trails in the surrounding Knysna Forest.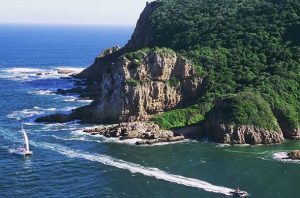 Plettenberg Bay: (or 'Plett' to the locals) has excellent golf courses, hiking trails, and numerous nature reserves nearby to head to. The small town full of restaurants and coffee shops is a delight as a home base. Wooden jetties and boats dot the bay, and grand houses tumble down toward the ocean.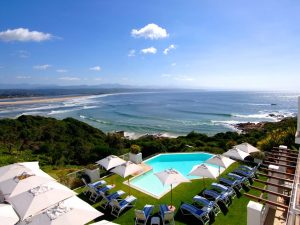 The Crags: wildlife sanctuaries, fantastic for families
A 25-minute drive from Plettenberg Bay, The Crags is home to a number of wildlife sanctuaries and is where to go on the Garden Route for unforgettable family holiday activities. Visit the Elephant Sanctuary and walk hand in trunk with an orphaned baby elephant; wander through the forest at Monkeyland while monkeys from all over the world swing through the branches above you; and spend a few unforgettable hours at Birds of Eden – the largest free-flight aviary in the world.
Keurboomstrand: small town feel, lovely long beach
Compared to the holiday hustle and bustle of nearby Plettenberg Bay, the tranquil atmosphere of small, unassuming Keurboomstrand is enough to make you audibly exhale on arrival – perfect for long walks! The Keurbooms River Nature Reserve is also worth a visit: go for a hike in the spectacular wooded gorge or paddle along the placid river in a kayak, keeping an eye open for forest and water birds including the endemic Knysna louries and colourful malachite kingfishers.
Wilderness: laid-back village with broad sandy beaches
Driving from Cape Town, you know you've truly arrived on the Garden Route when you crest the hill just before the village of Wilderness and see a ribbon of dazzling white sand and blue surf-speckled ocean stretching away into the far distance. Broad beaches, well-marked hiking trails and unique ecosystems of bird-filled forests, rivers, and lagoons make Wilderness a paradise for nature lovers, bird-watchers or anyone looking for a peaceful escape away from the larger and more popular towns of Knysna and Plettenberg Bay.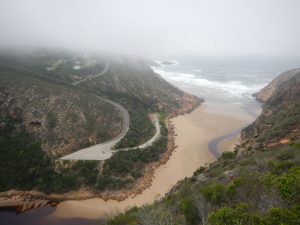 Storms River Village: hikes, waterfalls & forest canopy tours
Storms River Village is surrounded by the Tsitsikamma National Park – a well-known coastal reserve that protects the remaining indigenous forest that once carpeted this region. The coastline around Storms River Village is wild and rugged, and this is where to go on the Garden Route for hiking trails that last anything between a couple of hours and five days, but how about inching along a swaying suspension bridge over a yawning ravine or taking a forest canopy tour high in the treetops as well?
St Francis Bay: beautiful coastline, ideal for water sports
Halfway between Knysna and Port Elizabeth lies St Francis Bay, a picturesque sweep of sand popular with both locals and overseas visitors. It's a wonderfully quiet part of the Garden Route: the small town of St Francis Bay and the even smaller cluster of white-washed cottages that is the village of Cape St Francis are the largest built-up areas on this stretch of coast. Besides the miles of empty beaches and an ocean full of dolphins, there are small nature reserves, teeming rock pools, great fishing spots, horse and mountain-biking trails, bird watching hot spots and, if you fancy renting a board, some of the best surf on the Southern Cape coast.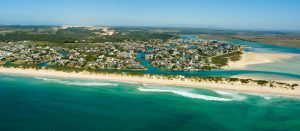 Sedgefield: tranquil holiday town overlooking a calm lagoon
Conveniently tucked away between Knysna and George, laid-back little Sedgefield was recently declared Africa's first Cittaslow town – a worldwide organization that advocates a cultural shift towards slowing down life's pace. Set on the banks of a beautiful coastal lagoon famous for its birdlife, it's a great destination for outdoor enthusiasts, or indeed those just looking for a relaxing break. Cycling and hiking routes wind through the surrounding forests and nature reserves, and every Saturday morning sees a popular outdoor organic market.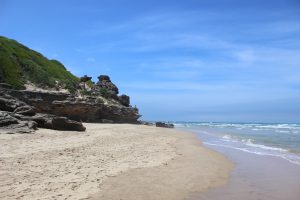 George: top golfing destination, swim, hike & bike
A sleepy agricultural town in a stunning mountainous setting, George is set back from the coast and, though friendly enough, is a fairly unremarkable destination. Its main draw, however, is the fact that three of South Africa's best golf courses are found here, including the peerless Fancourt Golf Estate – an 18-hole champion course designed by South African golfing legend Gary Player. Other highlights in the area are the mountain-biking and hiking trails in the surrounding Outeniqua Mountains plus great swimming beaches, located only a short drive away.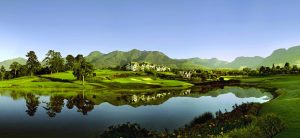 Mossel Bay: safe swimming beaches, plenty to do
Lying not quite 400km from Cape Town, Mossel Bay signals the start of the Garden Route. Although the town's sprawling outskirts aren't much to look at, as soon as you reach the ocean, you'll find protected sandy bays that are perfect for swimming, sailing, and kayaking. And being a popular holiday destination, there's plenty to do in the area as well. Take a boat trip to Seal Island, go horse riding along the beach and visit nearby Botlierskop, a private game reserve that gives its visitors a taste of South Africa's legendary game viewing experience. Mossel Bay is also where to go on the Garden Route to try one of the country's biggest thrills: cage diving with great white sharks.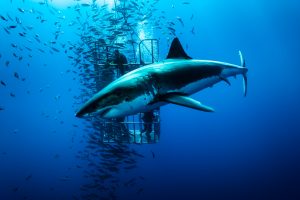 Oudtshoorn: incredible caves & ostrich farms
Oudtshoorn is separated from the Garden Route by a dramatic mountain range that forms a barrier between the lush coastline and semi-arid interior known as the Little Karoo. Luckily there's a mountain pass which makes for a beautiful drive into this unique landscape and on to South Africa's ostrich capital, Oudtshoorn. The town has several ostrich show farms where you can learn all about these extraordinary birds and even ride one if you'd like, but our favourite reason to travel here, however, is the presence of the Cango Caves. We'd highly recommend taking a tour of this elaborate underground labyrinth, complete with narrow stone passageways and vast caverns dripping with stalactites.
Safari options near the garden route:
There are a few excellent safari opportunities near the Garden Route. These are not as well-known to international travelers as the other priemier safari destinations in South Africa, but do offer an excellent experience with great lodges, wildlife and expert guides.
Our favourites are:
Shamwari: Shamwari game reserve has 7 lodges all of which are graded as 5-star. The game reserve hosts the "big 5" and one has a good chance of seeing these incredible animals in a relatively short stay of 3 nights. The reserve is easily accessible by vehicle, which makes the reserve a great option for those on the Garden Route.
Addo Elephant National Park: Situated close to the Garden Route, the national park is another good option for a safari in this area. There are many accommodation options and a few luxury lodges and camps. The park is well known for large numbers of elephant, good rhino viewing and excellent lion sightings.
Port Elizabeth: logistical hub & sandy beaches, "PE" is the best place to fly in or out of when exploring the Garden Route. A great option is to start in George and end in Port Elizabeth or vice versa.
Images by Africa Geographic